The Frontliners girls team are on the move once again. Our women star, Sarah Ng has set the Frontliners women's suicide record at a time of 17.15 seconds. It was an encouragement to the others to continue to strive for excellence.
We want to welcome back Miss Koay Yi Lin(picture, 2nd from left in white t-shirt). She has finally decided to join us for the YouthWave 2007 challenge. The Frontliners can definitely use an extra hand in their pursuit of challenging the other teams.
It is amazing to see Yi Lin still having some floorball sense although she's just joined us. Star player, Sarah Ng praised " she's doing great for someone who haven't been playing for a long time. "
The girls just recovered from the most exhaustive training last week. Coach Jason has finally learned his lesson the hard way. This time, he allowed enough rest for the girls. To be prudent, coach Jason kept asking the girls to rate their level of exhaustion from the scale of 1 to 10.
"Surprisingly this week, the girls were able to make it for the fitness test. It is true that i allowed rests in between, but you've got to give them the credit that they are fitter now." says coach Jason.
Asked on what she has improved this week, Sarah Aida commented, " I think I have improved in my stamina and fitness."
Looks like coach Jason's never ending emphasis on fitness is beginning to pay off. Other than fitness, those that has been committed to the training has shown tremendous improvement in their overall floorball abilities.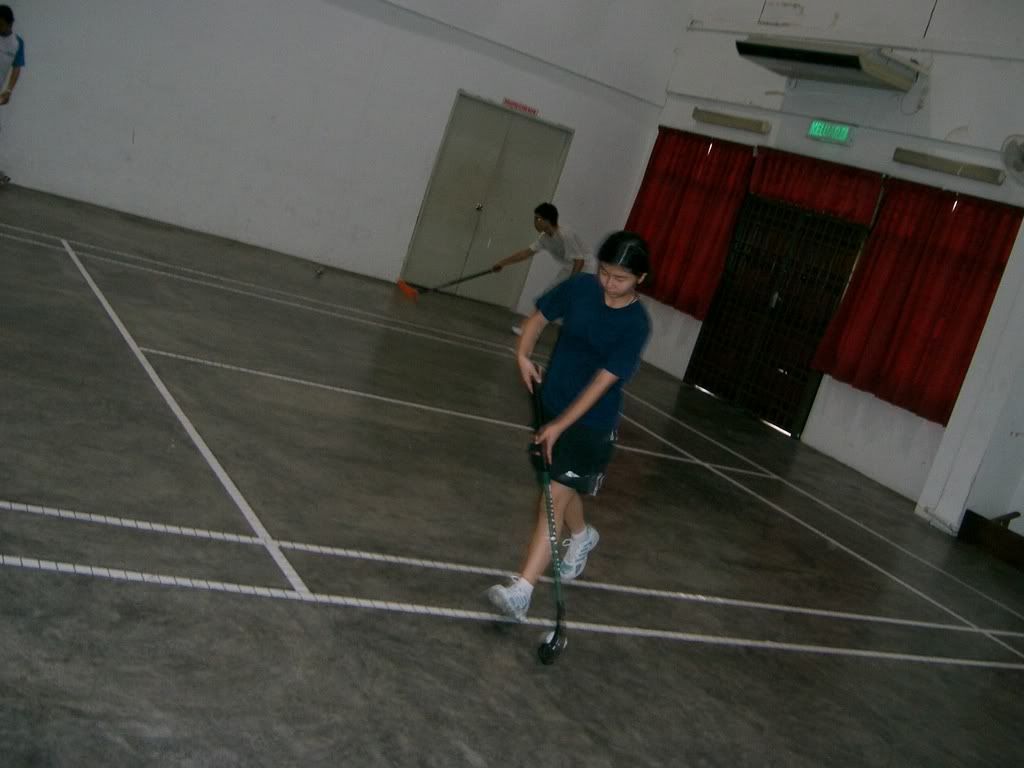 Technical Advisor, Kuan Yang was amazed at the girls progress stated," The girls have definitely improved a lot since we started training early this year."
The was a moment of good play shown by Roselyn(picture above) during the match. Roselyn controlled the ball briefly to do a simple fake before executing a pass to her team mate. Technical Advisor, Kuan Yang commented " Look at Roselyn, she plays a lot better now. Now she is able to have more control on her game compared to last time."
"Roselyn is one of the most improved girl in the team. Her commitment to training is the reason she improved. She's more confident of herself and doesn't panic like before. Anyway, she still has lots of room for improvement. As for now, she's doing great" says coach Jason.
Bouncing back from the insane training last week, the girls are now back on line. It is good to see that the pace is picking up as the tournament gets closer.