Happy Chinese New Year to all floorballers in the globe. Due to interference by the CNY holidays, the management has been busy, thus our postings have been postponed to this week.
Anyway, last week during the CNY eve, we conducted a heterogeneous mini-training session incorporating both the boys and girls together. We were supposed to cancel training but due to popular demand(by many players), the management had been persuaded to carry on the training.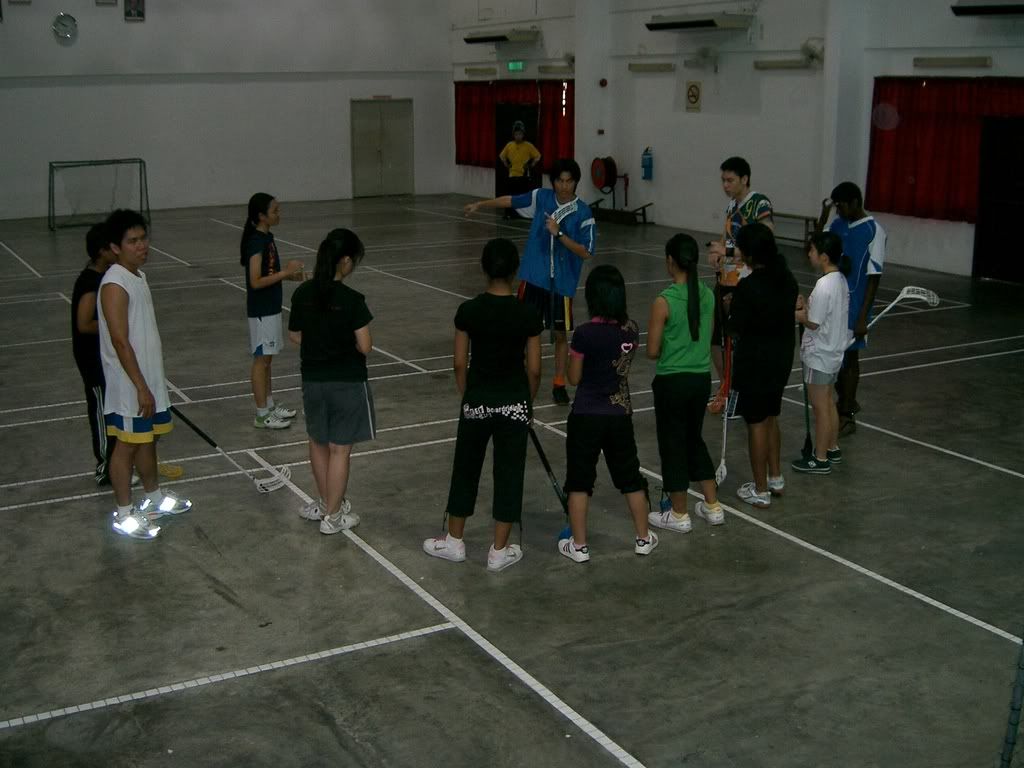 We finally had a record of 16 people on the training. Based on the photo above you can see that the population of the "Frontliner(ess)"(for female) have outnumbered the "Frontliners"(for male) . With a ratio of 2:1, there were 10 girls and 3 boys plus 3 guests from other clubs joining us that week. The Malaysian National Goalkeeper, Kao Lin Ken whom was our guest of honor was impressed. Lin Ken wondered,"How did you all(referring to Frontliners floorball club) manage to get so many girls to come for training?".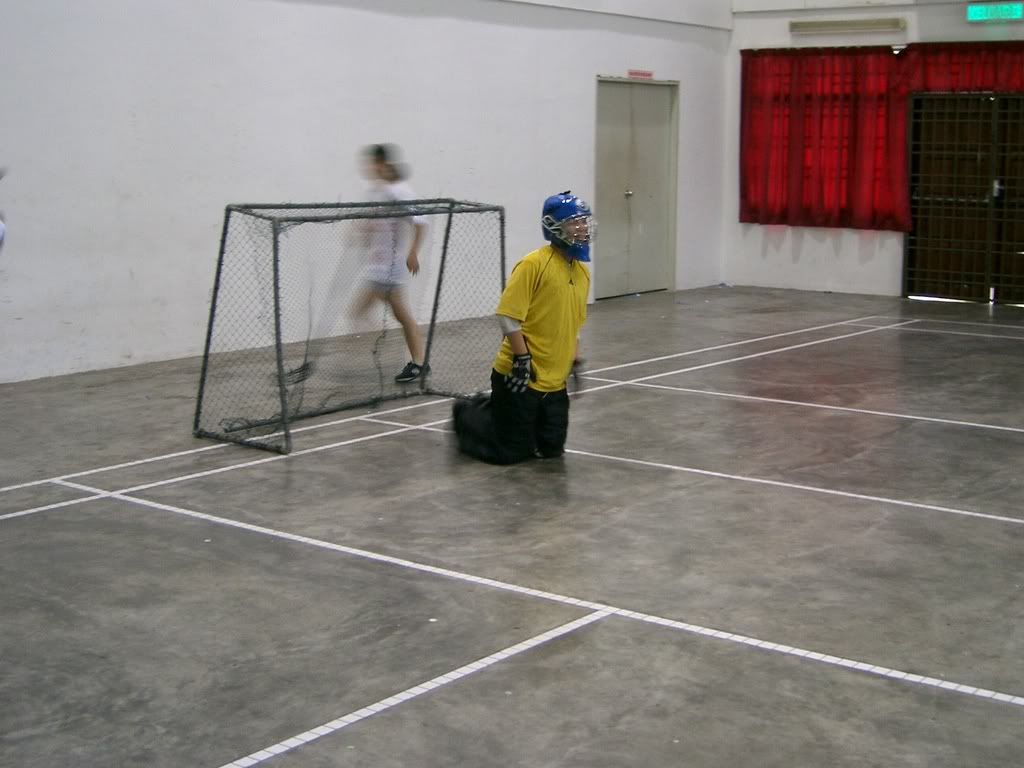 Frontliners were privileged to have the experienced goalkeeper, Kao Lin Ken to visit us. No doubt that this man speaks and eat floorball. After coming back for CNY reunion, he decided to join us for training.
Lin Ken said"Can I join you all for training? I need to do something with my floorball training. Haven't been training for some time". It was a win-win situation for both the club and Lin Ken.
"It is a good experience for Frontliners to have the flamboyant goalkeeper as our guest. The players finally got a chance to see a goalkeeper after we've started training this year. We are now having problems looking for a goalkeeper. I believe all clubs are facing that too. Lin Ken's dynamic movement on the goalpost makes goalkeeping looks so simple yet elegant. His charismatic presence will make a way for us to inspire and challenge the young ones to pick up goalkeeping. We also love his ethics on the court. He is always giving his best in training. We want to thank him for setting an example for all of us to follow." says coach Jason.
There was other reasons for Frontliners to celebrate that day. The club has expanded with 4 newbies, Jasmeeta, Anis and Jasly(photo right) and Sarah Aida. Asked how they felt, Jasmeeta said "Floorball is fun." Jasly said "I used to play floorball last time. Now I want to pick it up again."
With the arrival of these newbies, Frontliners can now think of sending more girls into the Youthwave tournaments soon. The club already has big plans for the girls.
One of our young player, Pei Li(picture left) has finally returned to training after having some minor injury on her knee. The doctor has pronounce it safe for her to resume training.
"That is another boost for the girls team. She is progressing well. With her athletic abilities and natural aggression on the courts, the Frontliners girls will have additional horsepower on the flanks. We are looking to develop her as the next transport system for the team. We will see how it goes." Said coach Jason.
May the girls start to rise up as a floorball force to be reckoned in the island. Perhaps we will be able to see a Jill Quek(Singaporean Woman Floorball Star) in Penang one day?